Do you believe that effective communication in live chat can boost customer involvement and increase sales? Generally, do you consider live chat as an effective tool for interaction with potential customers? If not, this article will persuade you to start using live chat as a customer engagement tool.
Differences between Engagement and Customer Satisfaction
Customer engagement is basically an indicator that shows how much time users spend on your site and the level of interaction with managers before making a purchase. This term implies communication with the staff, asking questions about products or services, picking the best models among several options, etc. In simple words, these are a set of actions that show clients' interest in products and precede making a purchase.
Customer satisfaction is what comes after making a purchase and trying a product. Satisfaction is the emotions and impression that customers feel after using goods.
How do Organizations measure Customer Engagement and Satisfaction?
To measure whether clients are involved, customer engagement management software is used. Marketers have a set of tools that help identify what portion of website visitors convert into real and regular clients:
Google Analytics (GA);

Hotjar;

Finteza;

Hubspot;

FanPlayr.
Each of these tools helps measure digital customer engagement, make various charts, analyze where customers come from, what kind of activity they do on the website, and get other crucial information about consumer behavior.
For the assessment of customer satisfaction, several metrics are used. These are:
CSAT (Customer Satisfaction Score);

CES (Customer Effort Store);

NPS (Net Promoter Score).
These tools simplify the process of obtaining information and analyzing the level of satisfaction with the product or service.
Most marketers use customer engagement SaaS utilities to collect, process, and analyze data about customer involvement and satisfaction.
How Your Chat Greeting Can Increase Engagement?
Now, let's talk about how to improve customer engagement. Live chat stands as an effective tool to pump client involvement and start interacting with potential consumers. Adding a chat for website / online chat for website will be an excellent solution due to the following reasons:
   

Clients will be able to quickly contact managers for clarifying certain questions.

   

Businesses improve customer loyalty by showing care and attention.

   

Quick and easy navigation on the website due to hints of a chatbot or a manager.
When a website visitor browses the website, a greeting message can urge him to stay longer, visit new pages, study some products, etc. As a result, real time customer engagement grows, while consumers learn more about your brand, shop, or services. However, the tool will cater to business needs only if used correctly.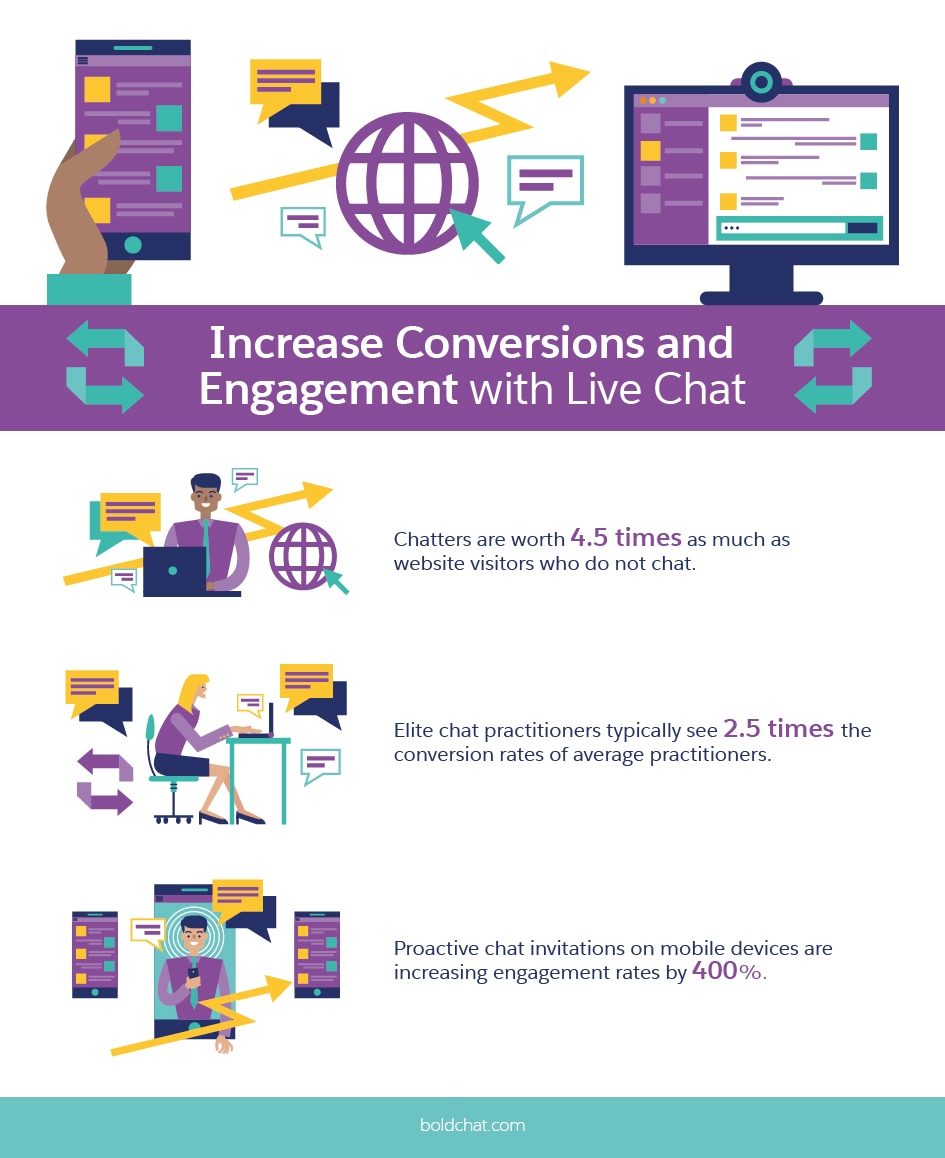 How to Begin a Non-Intrusive Chat?
Now, let's get closer to practice and consider how to develop a responsive, user-oriented live chat for sales without sounding too obtrusive. To show responsiveness, it is important to think about the right chat greeting. When developing a proper welcome message for live chat on your website, take into account the following tips:
    Avoid general phrases and make your message more targeted.
    Use questions to clients to urge them to answer.
    Emphasize your expertise and reputation.
    Avoid being too obtrusive.
    Think about creative messages and avoid commonplace greetings.
Sticking to these principles will help develop effective chat triggers that will urge website visitors to answer and, therefore, improve their engagement.
Few use Cases for Live Chat Triggers to Increase Engagement
Let's try to develop some examples of how to create a user-oriented live chat that will set potential customers in the right mood.
Example 1 for an online shop of beauty products: "Hello. Have you seen the latest collection of lipsticks? If you want to get more details, let me know."
Example 2 for a company that deals with repairs: "Hello. We have wide expertise in repairs. Our workers know how to transform your premises from outdated to modern ones. Contact me if you want our designers to make a layout for you."
Example 3 for an auto car salon: "Hello. Do you need a car that will highlight your status and reputation? Our managers will consult you on models and help choose a suitable auto according to tech specs and other demands."
Yet, note that to achieve omnichannel customer engagement via live chat, it is important to make it noticeable. For this reason, skilled marketers recommend using the following techniques:
Add an avatar and the name of a manager. Live chat will become more noticeable and look responsive if a customer will know the name of the interlocutor and see his/her photo. This solution increases engagement 2 times and makes live chats more user-oriented.

Add buttons for filter users and their requests. For example, after a greeting message, it is reasonable to place several buttons like "I can't pay for my order", "I don't know how to make an order", and "I need consultation on the choice of the right model". By clicking on one of the buttons, customers will be further redirected to a specialized manager who deals with this very score of work. This technique allows reducing the time for problem identification and increases client loyalty.

If you have some personal information about a consumer, use it. If he fills out a contact form or you have access to his shopping cart, you can use this info to make your message more personalized. For example, if a client adds dresses to the cart, writes about a new collection of dresses, and if the client wants to buy shorts, he's not interested in dresses, and you should better inform him about sales on shorts. This will make a

customer experience

on your website positive and improve engagement since the client will spend more time looking through the assortment of new dresses or shorts being on sale.

If you know the customer's name, always use it when addressing. This will also help pump client loyalty.
Skilled marketers know how to control and guide consumer behavior using live chat. However, the analysis of live chat effectiveness must be carried out periodically. Here, a customer engagement platform helps simplify the task and structure information.